Cut Edge Studios offers full service Production facility Content creation & production will be designed to ensure that you meet your communication objectives and enhance the value of your brand.
Expertise editing with Grass Valley Edius nonlinear real time editor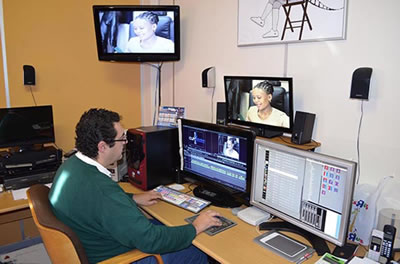 Video is a communications tool like no other. Pictures, sound, text and movement blend synergistically to create an impact far beyond each of the individual elements. A video can quickly and precisely demonstrate your products' features and benefits in action—bringing them to life in a way that a print message never could!
Cut Edge Studios is a multimedia production house with a comprehensive filming, Post-production and virtual TV studios facilities for an all-in house production.
Cut Edge Studios believes  in customer satisfaction and strives towards achieving it. We offer our clients excellent cost saving solutions in creative media, DSTV Business TV broadcast, Live and Web Stream & other virtual event management solutions.
This generates wider exposure within the target audience of our Clients products or services which range from AGM Conventions, Press Conferences, Training and New Product Launches to Business Seminars of any nature. The mobility of our services allows us to capture indoor and outdoor events. We make live streaming of events possible to any desired location all over the world.
Business Television Broadcasting
Business Broadcast is transmitted through the Commercial Subscriptions bouquet on DSTV, channel GA 901. (no DSTV subscription is required).
All broadcasts are encrypted based on the Smartcard number, which means that no person has access to your message without authorization. This type of television broadcasting is absolutely secure.
Live and Web Stream Broadcasting
Internet Live Streaming and Web Streaming are cost effective and a powerful visual way of communicating with your clients and staff. This innovative internet broadcast system is in demand worldwide.
Video on Demand
On-Demand Streaming is a term that includes many services. The event is captured, encoded, hosted, and accessed whenever required. This means that viewers can retrieve a video clip which is hosted on your existing website.